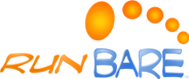 Barefoot Running had the opportunity to chat with Michael Sandler, co-founder  (with now-wife Jessica Lee) of RunBare, to learn about their new ground-breaking movie, Barefoot Running, The Movie. More than a how-to, this movie is proof in image of the beauty of nature and the power of connecting with the self through the process running barefooted.
BFR:         What do our readers need to know about the movie?
Barefoot Running, The Movie is something that is both inspirational and designed to teach how to get into barefoot running in a kind and gentle fashion. This is for everyone – even if you don't want to run barefooted, it will teach you to run lighter and in a kinder way than ever before.
If you have a love affair with nature, this will bring it out again.
BFR:         How did the idea for the movie come about?
As we were on tour and meeting with people at running stores, they were asking us 'can you show us' how to run bare, and asking us to make a DVD. We realized that really showing, really taking people to experience the barefoot running journey was valuable.
After about a year of work on it as a how-to video, we realized it wasn't unique. It was too cookie-cutter, with no passion or personality. It didn't feel right and we hated it, so we went back to the drawing board and got in touch with a documentary director who had been out with us on the road touring. He realized that we wanted something that would go with us on the journey.
As we saw it, the book was our Trojan Rabbit – if we could help to free people of their shoes, they could then discover an entirely new world. The book was designed to free people from their shoes, and bring them out to play. The movie would show them how.
With that in mind, we went back to the movie with the intent to make it part documentary/part Warren Miller/part lesson.
At the point when we were going back to the movie project, we were just getting off tour and finishing our newest book Barefoot Walking. We started making plans to film in the most beautiful place we could get to easily – we were thinking California. It was then that our service dog passed away, and we realized we now were free to fly somewhere beautiful, and ended up in Hawaii.
Once the decision was made, we moved on it within a couple of weeks. It was almost no time to put this together, but we assembled a whole team and were determined to let nature guide us – guide where we were, we would film, and find ways to keep filming even if it was over a few days.
The footage ended up being more than we could have imagined…it speaks for itself. This is the movie that Mother Nature made.
BFR:         Besides you and Jessie, who has been involved in the project?
Zach Bergen, a longtime barefoot runner, was involved in the soundtrack. Auntie Puanani Mahoe, affectionately known as Auntie Pua, gave us a lot of guidance on the islands, along with David Meredith, of Maui Mystical Tours. They provided us with great guidance on where we should go to film. Abhay Morrissey from Proflyght Paragliding, piloted the paraglider for the incredible aerial shots in the film.
BFR:         Are there any special cameos, locations or activities that viewers will be particularly excited about?
Hawaii! Running through bamboo and redwood forests, the jungle, a crater, a volcano – stunning places like Iao Valley. The film features a wonderful talk from Auntie Pua about the meaning about Aloha, which is offered as a bonus feature. And we have bloopers that offer heartwarming proof that this is really us just out there, connecting.
We're putting a lot of other exclusive special features on the site, including Jessie (who is a 400M sprinter) sprinting really fast down a mountainside to Eye of the Tiger. The cameraman is flying over us on a glider just to catch the footage. I'm chasing Jessie down the hill, when I trip and flip into the air, end up doing a double cartwheel and them somehow I keep going. It's pretty amazing.
BFR:         Is the movie organized in chapters because you intend for people to use it as a training guide?
The layout is designed so that after watching it and getting inspired, people can use the movie as a reference guide. It is laid out in easy-to-navigate sections that address special topics of specific interest.
BFR:         Do the chapters correspond with the structure of your Barefoot Running book?
There may be some loose correlation between the two, but these movie chapters are more meant to get out the information in a useful form that, more importantly, provides a beautiful ebb and flow.
BFR:         A Revamped site, books, now a movie…what's next for RunBare?
I'd love to say vacation! We have a couple of ideas for books, but it will take hitting the breaks for a bit, going someplace quieter and really practicing what we preach.
What we want to teach is connection with nature, and doing things in a very different way, yet right now, we're stuck in the work. It's where we've needed to be for the time, but we can't teach more if we can't get back to living this barefoot life, connecting with the Earth, and living a simpler and more natural footprint.
About two months ago, Jessie did a two-day fast. It led to our decision to go 100% raw vegan, which we've done very intentionally. Our bodies have changed and we've gotten so much healthier – we've seen beyond a night and day difference. It begs so many questions, and there is a much healthier way to live.
We have been gifted with an ability to share with others in a way that makes us the storytellers. We would like to see where this journey takes us.
This movie shows that barefoot running really is a journey of more than just running. It's about connecting with the Earth, nature and taking a journey on the inside to connect with the self. Every runner knows that running can quiet you, and with barefoot running, the music is the ground beneath your feet.
We think this movie does a fantastic job of showing people how much we can get back to being a kid again and how we can go on that journey of the inside. We call it Running Yoga – an experience of the quiet mind and of being in nature.
Someone told us recently that the movie is so inspiring that even someone who is not a runner will jump up and run out the door after they watch it. It will make you fall in love with running…all over again.
BFR:         Where, besides the site, will you be selling the movie?
The RunBare site is the easiest way to buy the movie for now. RunBare is the top channel in YouTube for barefoot running, and we'll keep posting new footage. We anticipate that the growth will be really organic.
Barefoot Running, The Movie will hit the shelves August 31st, 2012. You can pre-order a copy today for 33% to 60% off the cover price, and receive discounted shipping on 4-pack purchases. Two ordering options:
Option 1: SAVE $10 OFF:
Buy 1 DVD for $19.99 ($10 off the full cover price)
Option 2: SHARE THE LOVE! & Save 60%:
Buy 4 and send a gift to three of your best friends for only $11.11 per DVD, to receive over a 60% savings, along with discounted shipping
WIN IT! Tweet a link that includes @runBAREcompany, @RunNaturally and a link to the movie (http://www.runbare.com/themovie). Use the Comments Section below to show us your tweet. We'll randomly draw a winner on Wednesday, July 18.